Bonaventure Tain
Producer/Director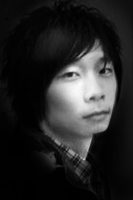 Bonaventure or affectionately known as Bo, graduated from the State University of New York, majoring in documentary films. Armed with his passion for directing and with 9 years of experience in the industry, he decided to come to Singapore from his hometown of Sabah, East Malaysia.
Bo's interest & love for directing was sparked watching Hong Kong dramas. He realised that there were so many genres in the media to be captured and that was the turning point which inspired him to be a director.
In his free time, Bo still watches an occasional Hong Kong drama and being in Singapore has made him a fan of local Chinese drama shows and though some may find it common, Bo is currently hooked on Singapore's mixed vegetable rice!
Bo joined The Moving Visuals Co as a Producer/Director in 2010. Meanwhile, his love and passion for directing and trying his hand at different genres of work remain unchanged. His diverse range of work include 'Art Therapy' a docu-drama; 'Vintage Hunter'; 'Project I' an infotaintment series, 'Mission S-Change' and a well-received talk show 'Mars vs Venus' and many more.