Laura Tien
General Manager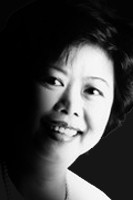 Laura supervises the daily adminstration and operations of The Moving Visuals Co.
She joined The Moving Visuals Co. after an impressive tenure as Group Account Director in Batey Ads, J. Walter Thompson and Publicis-Eureka  – where she was responsible for overseeing many major brands and accounts.
As Account Group Director in Batey Ads, Laura helped to build and maintain Singapore Airlines' image branding. She handled International Media (both Print and Satellite) for its global strategic advertising in 28 countries.
At J. Walter Thompson, Laura was both a Group Account Director and member of the local management board. Her accounts here included Singtel; The Estee Lauder Group; Debeers; Cisco; Warner Lambert and Metro.
At Publicis-Eureka, her portfolio included the L'Oreal Group's luxury brands including Lancome, Biotherm, Helena Rubenstein, Giorgio Armani and Ralph Lauren.