Mihir Desai
Writer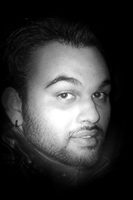 Mihir Desai has been working in films and television for the last 7 years. His credits include a mix of sitcoms, documentaries and reality programming.
Mihir spent time in London, studying in the Central Film School, honing his writing skills and writing several short film scripts and screenplays. His short script "Graffiti" was picked up in San Francisco and produced in 2014.
Mihir joined The Moving Visuals Co. in January 2014 and his script for writing for travel show "Earth Diary" and investigative documentary "Chained Insanity" helped earned the shows recognition in the New York Film Festival circuit.
Amongst some of his work was 'Throwback: Balik Kampong" for MediaCorp TV, in which he scripted and also worked as the post producer for the series. He is also very actively involved in producing season 2 of Throwback.
Mihir continues to research stories, script and also assist the teams in developing ideas for pitches.