Rein Zahrein
Editor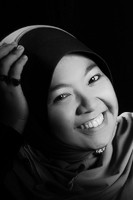 A graduate of Chapman University Singapore '12, Rein is always willing to venture into different aspects of film making. Having tried her hand in producing, directing as well as writing and editing, she found herself most comfortable in the latter. Editing is a challenge to create a story with what is already available. She is constantly eager to take up new challenges and aims to incessantly improve.
Rein always bears the words of her mentor, two-time Emmy Award winner for Best Editing Kris Trexler, in mind: "A great edit is when no one realizes it's been made."
At The Moving Visuals Co., Rein has been granted numerous opportunities to edit programs across different genres. Her career highlights include documentaries such as the series "Asia's Underworld 2" (Crime & Investigation Channel) and "Chained Insanity" (Channel News Asia), as well as info-entertainment programs like "Secret Singapore: Seasons 1 & 2" (MediaCorp 5) and "Cantik Detektif" (MediaCorp Suria). With topics ranging from criminal activities to lifestyle and beauty, these programs have proven her competency in a range of editing styles and have equipped her with various techniques to tell a story.
Rein believes that in an industry where an idea is never just an idea, we must have undeterred determination, solid commitment to our goals, and a thirst to prove ourselves. However, in the midst of hard work, we should also remember to rest and play, and to never neglect friends and family.