Sally Poh
Producer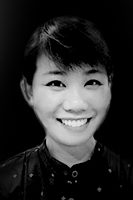 Sally first joined The Moving Visuals Co in 2005.  Working her way up from an intern to producer, she built up a portfolio of both English and Mandarin shows for MediaCorp and Disney Channel Asia.
Some of her favourite projects include Food Nation; Phineas & Ferb Chain Reaction; Groom My Room and a slew of kids shows because of their capacity to be weird and "punny".
In 2011, Sally left TV production to focus on mobile game development. She embarked on narrative writing for a "Choose Your Own Adventure" game. She then designed games, levels, monetization strategies and localised content. Some of the projects she worked on, including "Toyzilla" and "Swarm of the Dead" were featured under "New and Noteworthy" in the App Stores, and were successful in China when they were localised for the Chinese market.
After 5 years as an indie game developer, Sally is now back to her first love – TV production, and hopes to fuse TV and mobile games together some day.
She retains her fascination for technology, and how it enables people to create and share in new ways.    Besides TV and game development, Sally is also an avid digital doodler with the Instagram handle @sdoodlesss.