Khim Loh
Managing Director / Executive Producer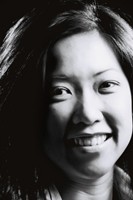 One of Asia's most established producers, Khim Loh co-founded The Moving Visuals Co. with a wealth of industry experience.  As MD & Executive Producer, Khim's TV production credits include well over a hundred productions for both international and local broadcasters alike.
An established seminar speaker and judge, Khim has participated in the International Emmy Awards and prestigious Banff TV Festival in Canada as a member of the international jury.  She was also invited to Asian Side of the Doc; Tokyo Docs; and Small Screen Big Picture conferences in Western Australia; the Trigger Points co-production conference in the Victoria Independent Film Festival; BCWW in South Korea and Mipdoc in Cannes.  As an accredited hockey umpire, she officiated at the 2002 Commonwealth Games in Manchester, UK.
Beyond television, Khim's international portfolio has included producing corporate documentaries for MNCs and overseeing thousands of commercials for major agencies around Asia.  Past and present clients include Sony, Singapore Tourism Board, General Motors, Singtel, PSA Corporation, National Science and Technology Board, AT & T, New World Telephone, Hewlett Packard, Ministry of Foreign Affairs, Maglis Ugama Islam Singapore (MUIS), and more.
Since 2017, Khim serves as the current President for the Association of Independent Producers (AIPRO) Singapore, and continues to work closely with industry stakeholders to grow and develop best business practices.