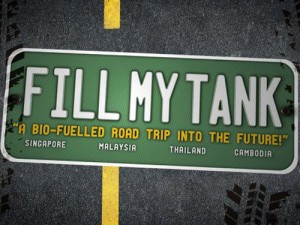 Our followers on Facebook may already be aware that Fill My Tank won Best Infotainment at the 2nd Asia Rainbow TV Awards.
Held just over the weekend at the Venetian in Macau, the awards are organised by the folks from the Hong Kong Television Association and China Television Production Committee, and sees plenty of submissions from across East Asia.
Fill My Tank first aired in February 2013 on Channel NewsAsia. Later that year, it was nominated for Best Social Awareness at the 2013 Asia TV Awards.
In this reality series, filmmaker and environmentalist Sean Lee Davies drives a car from Singapore to Cambodia on a sustainable journey across borders. Aiming to raise awareness for renewable energy and biofuels, he collects waste cooking oil along the way and converts it into biofuel for his car.
Producer Joshua Tang, who worked on Fill My Tank as its production assistant, attended the 2nd Asia Rainbow TV Awards in Macau on behalf of the team. Joshua's memories of the 25-day shoot are incredible and worthy of being, in his own words, told to his grandchildren. "Intense and almost melodramatic, everything that could happen on a road trip happened. There were some worrying moments when our car had problems. We also had an otherwise lovely Thai fixer who could see spirits. We had our fair share of dramatic behind-the-scenes moments, like when we searched for two hours for a missing GoPro in a river. We also nearly spent a night in the streets of Penang, when we found ourselves still hunting for a hotel room past midnight."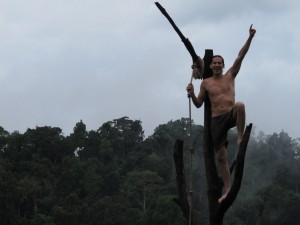 But it wasn't all stress and pressure – the team also found time to unwind, swimming in the delightfully warm waters of a quarry in rural Thailand.
"It was quite the VIP treatment with plenty of glitz and glamour," Joshua described, star-struck.The team's hard work paid off as they faced KBS's The Human Condition and Discovery's Invite Mr Wright: China in the Best Infotainment category at the 2nd Asia Rainbow TV Awards this year. It is a testament to the impact of the series that Fill My Tank beat out these heavyweights to clinch the award.
After the heady excitement of the Rainbow TV Awards, we're happy that Joshua has another unforgettable memory thanks to Fill My Tank!
The Moving Visuals Co. would like to thank the following people for our collaborative success on Fill My Tank:
Sean and our directors Kenneth and Lay Har;
Fixers Hoknym and Hokpheng;
Editors George, Rein and Gavin;
Supervising producer and writer 'Kiwi Mummy' Katherine;
Khim, our managing director;
Galen, our creative director;
Last but not least, the ladies who submitted Fill My Tank for the Asia Rainbow TV Awards – Laura and Geraldine!