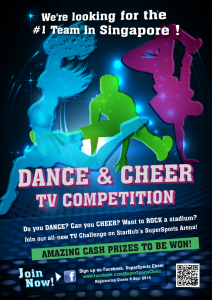 Stand a chance to win $10,000 in cash and prizes by taking part in our all-new Dance & Cheer competition for SuperSports Arena! We are looking for Singapore's best dancers and cheerleaders! As long as you can rock a stadium and get a crowd screaming to their feet, we want you!
Submit an application form and send us a video of your team doing a flash mob, and find your way to our auditions!
Deadline: 5 September 2014
Forms and details on Facebook.