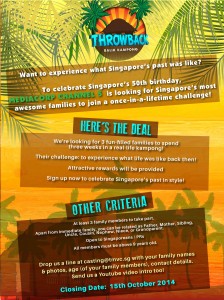 Casting begins for Throwback, a brand-new reality show about Singapore's past to air on Mediacorp Channel 5! We're looking for 3 fun families who are game to compete against each other in an adventure in a real-life kampong!
We're looking for parents, siblings, uncles, cousins, nephews, grandparents – anybody related by blood to take part in this old school challenge together! And if you're selected, you stand the chance to win attractive prizes!
Just send in the following information to casting@tmvc.sg:
    – Names, Ages, and Photos of participating Family Members
    – Contact Details
    – Link to a YouTube video introducing yourselves!