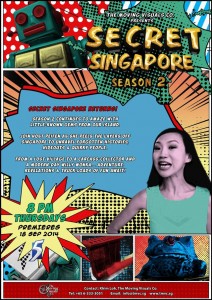 SECRET SINGAPORE returns!  Season 2 continues to surprise you with forgotten histories, hideouts, quirky people and jobs, as well as underground activities that go on right under your nose.
Each week on SECRET SINGAPORE, join our sleuth-host Y.E.S. 93.3 FM DJ Lim Peifen on action-packed missions. There will be mysteries to solve, little-known places to hunt down, awesome and elusive people to meet, and astonishing facts to discover in our heartlands.
Our host will go knee-deep in mud, track through jungles, creep through barbed wire fences, just to give you that exclusive access. Our gung-ho host will hunt down eye-witness accounts, and grill people with intimate knowledge of the topic, event and location.
Missions to accomplish, 1 supercharged host. The result?  Adventure, revelations and truck-loads of fun!