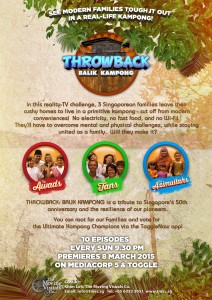 In reality-TV series 'Throwback: Balik Kampong', 3 Singaporean families go back in time to live like our grandparents did – without running water, gas, electricity, or telecommunications! Besides having basic survival, the Awads, Tans and Azimullahs will compete against each other in a series of tough challenges.
Through our Families' journies, 'Throwback: Balik Kampong' re-visits and pays tribute to our Singapore forefathers' pioneering spirit, and celebrates their resilience amidst those early years of uncertainty.
Who will win? That's up to YOU – download the ToggleNow app to vote for who you think should be the King of the Kampong!
Throwback: Balik Kampong Premieres 8 Mar, and airs every Sunday from 9:30 pm on Mediacorp Channel 5 and on Toggle.