.
A huge shoutout to SHAMSIYAH, our newly-crowned KEK CHAMPION!
.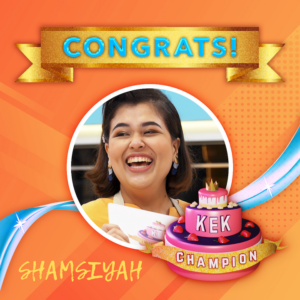 .
The challenges were tough, but she baked her way to the $10k Grand Prize!
.

This 29 year-old corporate caterer Shamsiyah's specialty lies in making fondant – the secret behind her beautifully sculpted cakes! Over ten weeks, our top baker wowed the judges and stole the show with her skills and talent.
.

CONGRATS too to finalists Munirah and Kurt for their hard work and dedication!  And a HUGE THANKS to our judges, contestants and our sponsors KitchenAid, Whirlpool & Bake With Yen!
.